Slovak Society of Traditional Karate and Kobudo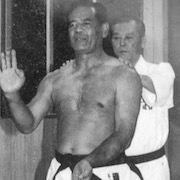 Karate
In our society the traditional Okinawa Goju-ryu karate of Shodokan, or Seigokan style is being trained. Our instructors are taking part at the training camps on Okinawa island regularly 2 times a year.
SSTKK organizes specialized seminars for all members as for Slovak cup in traditional karate for young people on a regular basis.
Kobudo
In SSTKK we train traditional Okinawa kobudo of Ryuei-ryu style. Within this school the following weapons are being practiced: kun (stave), sai, ekku (oar), kama (sickle), timbe/teppi (short spike/shield).
Kobudo starts to be trained in SSTKK when the trainee reaches 4. kyu (green belt) in karate.
Okinawa
Okinawa Island is a second home for us. Instructors of our society have created strong background on the island. SSTKK president is the official deputy of Goju-ryu karate and kobudo renmei for Slovakia. Regularly, two times a year, organizes SSTKK training camps (seminars) on Okinawa island for clubs trainers and the best trainees.
Self – Defence
Self-defense is the basic component of training within SSTKK.
Our instructors at the best in Slovakia and their experience are regularly used by the armed forces. SSTKK organizes minimally four self-defense seminars during every season.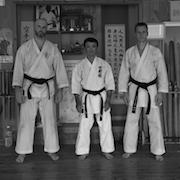 Our Teachers
Our trainers are Okinawa masters Choyu Kiyuna, Seitoku Matayoshi, Zensei Gushiken, Akira Gushi, Shigeru Kinjo, Eiki Kurashita, Tadashi Shinjo and many others from Goju-ryu Kokusai Karate Kobudo Renmei.
Techniques of self-defense include parts of Ju-Jutsu, to which we were led by Mr. Csaba Harsániy.